Click to see the Cobb Valley
on a Topographic Map
.
The Cobb Track / Kahurangi National Park
The Cobb offers an easy pleasant walk along side of the Cobb river up to Fenella hut. From the Fenella one can take day walks, swim in the nearby tarn, view the Dragons Teeth, or just read a book in pleasant surroundings.
Distance: 26 km return same route
Approximate Time: 2-4 days
Along the Track there are two DOC huts. In addition, Chaffeys hut, a historical little hut that has charm of bygone days, but not recommended for over-nighting in it. None of the huts have gas, so be prepared with your own cooker.
Transport Nelson to Cobb Valley
Approximate time: 2 hr 40 min
Trilobite hut to Chaffeys hut
Approximate time: 1 to 2 hours.
This first section is a fairly easy tramp beside the River Cobb with a well-defined track which has some good fishing in parts.
Chaffeys hut Hut to Cobb Hut
Approximate time: 3 hours.
The track climbs gently in this section, making for moderately easy going. The track continues to follow the true left of the river.
Cobb Hut to Fenella Hut (20 bunks)
Approximate time: ½ hour
More information on Fenella Hut »
One leaves the broad valley and river to make a short scrambling climb up to Fenella hut.
Day trips from Fenella Hut:
Mt Aorere (Dragons Teeth), Mt Gibbs, Island Lake, Mt Cobb, Kakapo Peak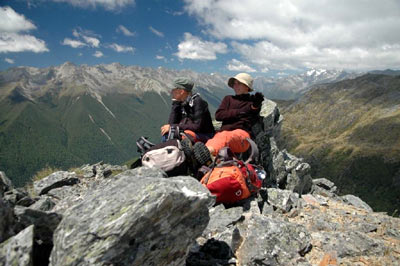 Other one or two day tramps in the same vicinity:
Sylvester Hut
From the head of the lake (dam wall), head up for one hour to a lovely new hut beside the natural lakes (Diamond and Iron lake)
Asbestos Cottage
Can be accessed from several directions. From the Tablelands, (See Descriptions Mt. Arthur Tablelands). Bullock track (steep track from Lake), and from the road just further up from the power station. The hut oozes history.. a romantic but ultimately sad tale of the Chaffey couple who lived a hermit there several decades mining asbestos.
Note
The road from the highest hydro-electric power station in New Zealand is long and tortuous (many lives were lost building the road), and not for the faint hearted. If time is not an issue, Trek Express can drop of passengers at the Flora instead (an additional day tramping is needed to get to Trilobite). (See Descriptions Mt. Arthur Tablelands). It is shorter by over an hour than the journey to Trilobite up the Cobb, and is an opportunity to cross the Tablelands which has some of the rarest features worldwide (along with Gouland Downs and Thousand Acre Plateau). However, one misses a great view overlooking the head of the Dam as we come over the ridge before dropping down again.