Click to see the Wangapeka Track
on a Topographic Map
.
The Wangapeka Track
Wangapeka is a river located in Kahurangi National Park. The Wangapeka Track is generally started from its eastern end at Rolling Junction Shelter, which is found along Wangapeka River Road. Starting from the Eastern side makes the tramp a bit more gradual in terms of climbing, but some people have been known to walk the Heaphy Track from East to West and then turn around and walk the Wangapeka back towards the Nelson area.
Distance: 53 km
Approximate Time: 4 to 6 days
Along the Wangapeka Track there are 6 official huts run by the DOC along with 2 shelters. In addition, there is Cecil King's Hut, a historically significant private abode once occupied by a gold-miner. None of the huts on the Wangapeka have gas, so be prepared with your own cooker.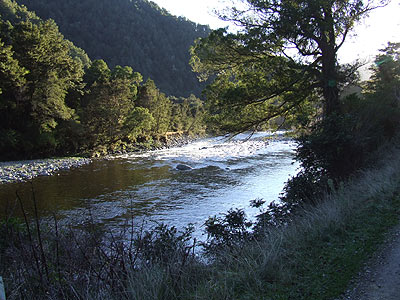 Transport Nelson to Rolling River Junction
Approximate time: 1 hr 40 min
Dart ford to Kings Creek Hut
Approximate time: 5 hours
If we have to drop you off at the Dart ford (no longer maintained by council and often in flood) the road section is 8 kms. Also if the Ford is in flood there is no longer a foot bridge available meaning it may be not possible to cross by foot.
The first section of the track is a fairly easy tramping through rolling terrain with a well-defined track which is benched and boardwalked through many of the soggier parts.
Kings Creek Hut has heating facilities as well as 20 bunk spaces. About half a kilometre further along you can find the historic Cecil King's Hut, with only four bunks it is far more intimate than the relatively massive Kings Creek Hut. It is also equipped with a fireplace for heating and lots of mice to keep you company. Charming place to stay the night!
Kings Creek Hut to Stone Hut
Approximate time: 2.5 hours
The track climbs gently in this section, making for moderately easy going. The track is benched and meanders through native bush. Stone Hut is a newer hut and is located on a nice flat nest to the junction of Stone Creek and the Wangapeka River. Its smaller, with 10 bunks, and serviced with heating facilities. Camping space is abundant in the flat around the hut.
Stone Hut to Helicopter Flat Hut
Approximate time: 4 hours
The climb up to the Wangapeka Saddle will lead you through a slip from the 1929 Murchison earthquake, where you can see the remnants of trees that died surrounded by skree. The sign marking the high point of the Saddle is the only indication you will have of being at the top, as the view is obscured by bush.
The descent is gradual, excepting a small, scrambling detour around a rather large slip. The track becomes more of a challenge as it follows close to the river. Exercise caution in heavy rain conditions. The Karamea River, which (along with several other smaller streams) must be forded, gets up to knee-depth in normal conditions, so prepare to get wet feet before reaching your destination! Helicopter Flat Hut has 10 bunk spaces and heating.
Helicopter Flat Hut to Taipo Hut
Approximate time: 3.5 hours
The track on this stretch can get messy in the best of times, but in highly wet conditions one literally must scramble over several small slips, hanging onto roots and provided wires for support. The track then meets up with the Taipo River, which will lead you to Taipo Hut.
Taipo Hut is set away from the river and has ample room for campers around it. Inside you will find heating and 16 bunk spaces.
Taipo Hut to Bell Town Hut
Approximate time: 5 to 6 hours
The journey up to Little Wanganui Saddle is steep, but interesting. After crossing the saddle you will probably notice the difference in how the track is maintained, pole-marked and not well-defined, its rougher going from here on out. The descent to Bell Town Hut is not an easy one, but the wild scenery is beautiful.
Bell Town Hut provides trampers with 10 bunk spaces and heating facilities.
Bell Town Hut to Wangapeka Road
Approximate time: 3.5 hours/5 hours wet weather track
The track leading out to Wangapeka Road is relatively easy in good conditions, aside from two relatively deep fordings of the Little Wanganui River. In wet weather, the high water track is a bit more difficult and could add two hours to your journey time. Following the old Wangapeka Road makes walking this part of the track quite leisurely, if you want to avoid fording the river, take the high water route.
The track leads eventually to the Wangapeka Road car park and shelter, at which toilets and a phone can be found.
Wangapeka Road Shelter to Nelson by return shuttle bus transport
Bus transfer time: 4.75 hours, approximate arrival in Nelson between 6.30 pm and 7.30 pm
Note
The Wangapeka is now classed as a 'route' by DOC. Tthe track is hazardous in parts and there is plenty of treefall slowing your progress. Its wise to add nearly an hour on times quoted above (just to be safe).
Rolling River Junction is no longer "guaranteed accessible" to us in the vehicles due to the Dart Ford being no longer maintained by the council and sometimes the rising water levels mean we are unable to cross. This means that we now only offer pick up from Dart Ford which is 8kms from the Rolling River Track End and has to be taken into consideration when allowing walking times. Also if the Ford is in flood there is no longer a foot bridge available meaning it may be not possible to cross by foot. There is a phone at the shelter (0.5km) from the Rolling River Car Park which is normally able to access the office. Also please bear in mind, that sometimes the shelter phone does not work, though keep trying and eventually it should make a connection!